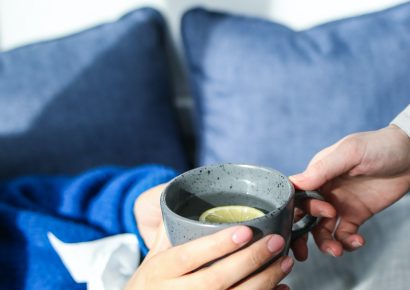 Why your flu jab is more important than ever this winter!
September to December is prime time for the flu and this year, more than ever, it's so important that you get your flu vaccination due to the added risk of COVID-19.
Why should I get the flu jab?
The single best way to protect against the flu is by getting your flu jab each year. For most people, the flu is an unpleasant bout of fever, aching muscles, chills, congestion and unrelenting fatigue. But for those more vulnerable, it can develop into something more serious such as a chest infection, bronchitis or even pneumonia. Flu jabs can reduce the risk of flu illness by up to 60% and is recommended annually due to there being new strains of the virus every year.
Why is it even more important this year?
This year it is especially important to have your flu jab. Not only do we want to protect our most vulnerable from the flu, but because we risk the COVID-19 pandemic overstretching our NHS, the more that we can prevent flu cases from hospitalising patients, the more hospital capacity we will have to care for those suffering with COVID-19.
What are we doing to ensure that the hospitals are not over-run?
This winter, The National Influenza Immunisation Programme has been extended to include more groups of individuals in order to help protect our NHS from being overstretched, alleviating pressure. It is important that those eligible take advantage of this scheme in order to better protect them from the flu at an already difficult time.
Who is entitled to the flu jab?
There are certain people who are at greater risk of developing complications as a result of the flu. If you fall into any of the priority group categories, you are entitled to a free vaccination through your GP and some pharmacists. This year the priority group has been extended further.
The priority groups this year include:
Children aged two and three years on 31 August 2020.
Children in primary school from reception class to year 6 (inclusive).
People aged six months to less than 65 years in clinical risk groups.
People aged 65 years and older (55 years if in prison).
Pregnant women.
Carers.
People with a learning disability.
Healthcare workers (including healthcare students) with direct patient contact.
Staff in nursing homes and care homes with regular client contact.
Staff providing domiciliary care.
Other people who are eligible for a free flu jab include:
Health and social care workers working with ill, elderly or vulnerable people.
Anyone with the following medical conditions:
Diabetes
Lung disease
Asthma
Heart, kidney or liver conditions
Long-term neurological conditions i.e. Parkinson's disease or multiple sclerosis
Those under the age of 65 with long-term health conditions, including:
Chronic respiratory disease such as asthma requiring regular inhaled steroids or chronic obstructive pulmonary disease (COPD)
Chronic heart disease
Chronic kidney disease at stage 3, 4 or 5
Chronic liver disease
Chronic neurological disease such as Parkinson's disease, motor neurone  disease
Learning disability (no longer need to be clinically assessed as vulnerable)
Diabetes
Immunosuppression due to disease such as HIV/AIDS or treatment such as cancer treatment (and household contacts of at risk individuals).
Asplenia or dysfunction of the spleen
Morbidly obese adults (class III obesity) defined as those with a Body Mass
Index (BMI) of 40 or above, aged 18 or over.
Can anyone get the flu jab?
Yes. Anyone else outside of the priority group can pay for a flu vaccination through their local pharmacy.
When should I get my jab?
We recommend booking your appointment anytime from September in preparation for flu season. The jab can take up to two weeks to take effect, which is why it is recommended that you get your jab as early as possible. If you are a patient at Morlais Health and are eligible for a free flu jab, get in touch to book an appointment today.
Booking your flu jab
You can book your vaccination by calling 01685 385339. Please note that our phone lines are usually very busy between 8-10am, particularly on Mondays. Please try booking your flu jab outside those times if possible.